Harmony Glass Tools
Inland 3/8" Deluxe Soldering Iron Tip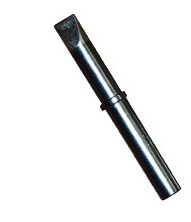 Description
Inland Deluxe Soldering tips combine quality and value! These are the replacement tips for the Inland TempTrol 100W soldering iron and the Inland Studio Professional soldering iron.
Key Features
Operates at 100 watts and up to 1000º F
Chisel style premium clad tips for long life.
The 3/8" tip is the tandard size replacement tip, suitable for general purpose soldering of foil and lead came.
Economical choice for class room and studio use.
Also available in 3/16" tip width for matching tip size to the job for better results.
Price: $11.95



Back to Soldering Irons

© Harmony Glass