Harmony Glass
Bullseye Frit - coe 90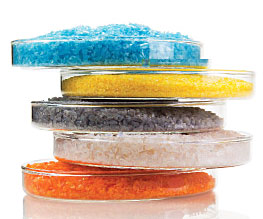 Bulleye Frit is made from Bullseye fusible glass. Its coefficient of expansion(coe) is 90. It is compatible with all other Bullseye products, but not with System 96 products. Both Bullseye and System 96 are excellent fusing lines and we are committed to carrying both of them. Our favorite is Bullseye, but our inventory of both will be gradually increasing. Bullseye frit comes in 4 sizes: powder, fine, medium, and coarse. If there is a particular color or size of frit that you would like as to carry soon,
let us know!
We have re-designed this page for easy ordering:
Click on a photo of the frit and you will be taken to a page that has all jar sizes and all frit sizes of that color!
Like most everything else on this website,
all glass frit is shipped at our low flat-rate shipping charge
within the continental US.