Phone Orders: (209)-532-2679

Hours
Monday-Friday: 9:00am - 5:00pm
2nd Saturday of the month: 9:00am - 4:00pm Pacific Time





Welcome to our website! Most orders for stained glass supplies are shipped the next business day. Unless otherwise noted, all supplies currently shown on our site are currently in stock and available for immediate shipment. You may order online using a credit card, PayPal, by phone, or you may mail your order with a check or money order.

May 11, 2016
We have received sad news from Spectrum Glass that they will be closing their business in approximately 2 months. As much as we are able, we will try to stock up on their glass, and we suggest that you do the same!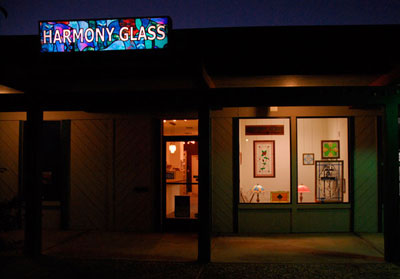 Stop by and see us! We have a full line of stained glass suppies, including: glass, tools, bevels, bevel clusters, books, patterns, and of course, glass jewels.
Address:
Harmony Glass
14747 Mono Way
Sonora CA 95370





Shipping and Handling Charges are only 5.95 in the continental US!
(For shipments outside the continental US, please email us before ordering to inquire about shipping charges.)

Ken and Becky Hubel
Harmony Glass



FAQs



Business founded 1979. Online since October 1999.
 ©Harmony Glass 1999-2015